Price Save $13.60 from $163.59 to $149.99
Vaultek Vr10 Lightweight Bluetooth Smart Safe
Based On The Highly Rated Ve10 Model, This Slim Design Is Ideal For Concealed Carry
Firearms And Easily Portable For Car Storage, Or Backpacks And Luggage. A Durable Pow
Dercoat Finish Prevents Corrosion And Ensures Long Lasting Protection Of Your Belongings
For Years To Come.
Signature Vaultek Anti-Theft Features Include Anti-Pry Bars And Dual Anti-Impact Latches
For Prevention Against Break Ins. Standard Features Available Across The Entire Vaultek
Product Line Up.
Quick Access To Your Valuables, Documents, And Firearm(S) From The Automatic Opening
Door. Get In Quick When It Matters Most Using The Rapid Fire Backlit Keypad.
Smart Safe Technology Provides A Highly Interactive Experience From Your Smartphone
With Bluetooth Wireless Technology. You Can View Battery Levels, History Log, Check For
Tampering, And Remotely Unlock The Safe When In Range.
Rechargeable Lithium-Ion Battery Provides On The Go Power For Up To 4 Months, And
Charges In Only 2.5 Hours With The Included Micro-Usb Cable Through Any Standard Usb
Port Or Usb Adapter.
3. Dimensions
Exterior Dimensions: 10.5In X 8.5In X 2.125In
Interior Dimensions: 9.875In X 5.375In X 1.5
---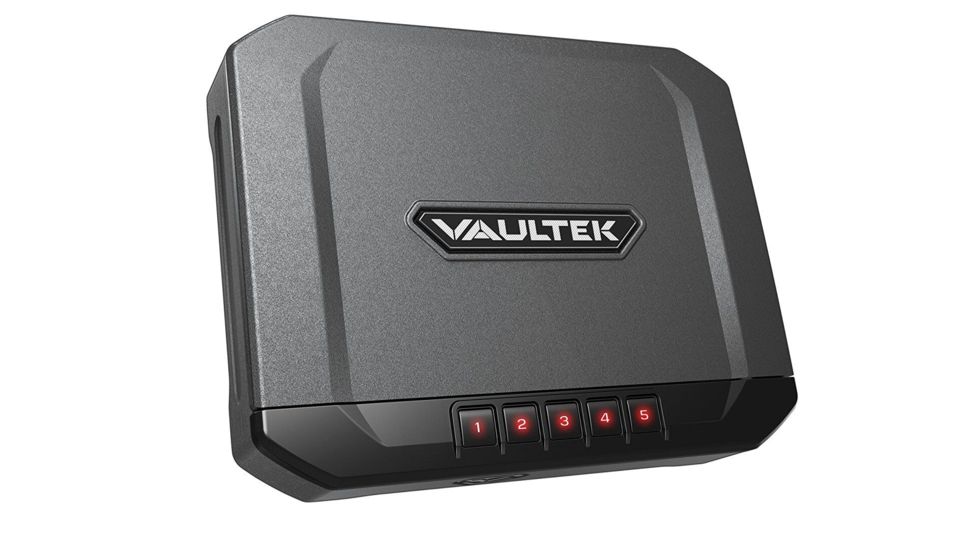 Vaultek Safe VR10 Lightweight Bluetooth Smart Safe
RATING
89.5 /100
Design

Excellent

Performance

Excellent

Value for money

Excellent

Feature

Excellent
Specifications for Vaultek Safe VR10 Lightweight Bluetooth Smart Safe:
| | |
| --- | --- |
| Color: | Gray |
| Finish: | Powder Coated |
| Fabric/Material: | 18 Gauge Steel |
| Lock Type: | Electronic, Key |
| Safe Type: | Security/Gun Safe |
| Fire Resistant: | No |
| Height: | 2.125 in |
| Width: | 8.5 in |
| External Dimensions: | 10.5 x 8.5 x 2.125 in |
| Internal Height: | 1.5 in |
| Internal Width: | 5.4 in |
| Internal Dimensions: | 9.875 x 5.375 x 1.5 in |
| Weight: | 5.2 lb |
| Additional Features: | Bluetooth |
---
---